Self Defense Weapons Blog
To keep up to date on the latest self defense weapons, techniques, and how to prevent attacks or abductions subscribe to our feed.
Just any of the options on the upper right: Google, MSN, Bloglines, Yahoo, or simple RSS (the orange button).
Zap Light Stun Gun Flashlight Review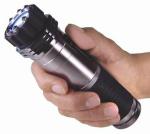 My zap light stun gun flashlight review is an unbiased analysis of this flashlight that is also a self defense weapon.